Pneumatic Hammers  Anyang  series C 41
<![if !supportEmptyParas]> <![endif]>
Dear friends,
Beside the anvils, forges and other tools for Blacksmiths we would like to offer you the small pneumatic hammers for blacksmithing in 4 sizes. You know it is not easy to buy small hammer today and therefore we hope you will be intersted in our offer.
The offered hammers are produced in China. Their maker produce also the heavy hydraulic machines as presses, power shears, and special wroughting machines more then 50 years. These hammers were recommended to us by our customer in Norway, where they are popular among the blacksmiths for their simplicity and power. They are also sold in Australia and in USA.
<![if !mso & !vml]>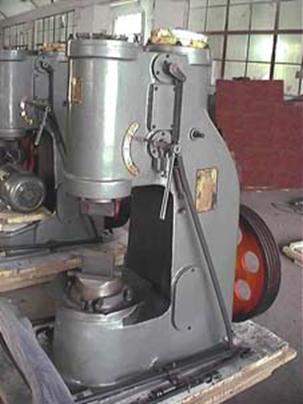 <![endif]><![if !mso & !vml]>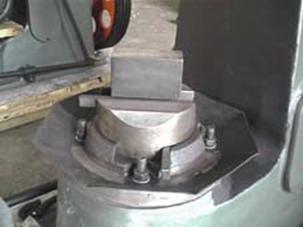 <![endif]>
Construction solution of all 4 sizes of  C41 series hammers is simmilar.
<![if !supportEmptyParas]> <![endif]>
Usage:
These pneumatic hammers are used for the free forging craft as drawing, upsetting, punching, chiseling, smithwelding, bending, twisting, etc. They could be also used in die forging with open type of die.
Description:
Hammers are designed as one piece machine on the base of heavy, casted stand. Operation is simple, controlling is done by pedal or handle. It is posible to obtain the idle run, top setting, series blow, individual blow with light blow or stron blow and pressing down. The lubrication  is done by self-absorbing oil pump.
<![if !supportEmptyParas]> <![endif]>
Technical properties:
Model

C41-15

C41-25

C41-40

C41-55

C41-75

Rated weight of the tup(kg)

15

25

40

55

75

Minimum blow energy(kj)

0.16

0.27

0.53

0,7

1

Diameter of the working cylinder(mm)

115

165

200

215

210

Diameter of the compressing cylinder(mm)

125

170

205

220

240

Number of blows per minute(min-1)

240

250

245

230

210

Distance between bottom die surface and guide undersurface(mm)

160

240

230

270

300

Distance between tup centre axis and frame front(mm)

145

200

235

270

280

Dimension of top die surface(L x W)(mm)

70 x 40

 100 x50

116 x 53

135x60

145 x 65

Dimension of bottom die surface(L x W)(mm)

70 x 40

100 x 50

116 x 53

135x60

145 x 65

Maximum round steel can be forged(Diameter)(mm)

35

48

68

75

85

Maximum square steel can be forged(mm)

30 x 30

40 x 40

52 x 52

60x60

65 x 65

Distance between bottom die surface and the ground(mm)

370

410

500

610

750

Machine floor space(L x W)(mm)

540 x 350

1320 x 610

1265 x 1470

1435x1650

1430 x 1478

Machine height(above the ground)(mm)

980

1540

1390

1590

1853

Type

Y90L-4

Y112M-6

Y132MI-6

Y132M2-6

Y160M-6

Rate power(kw)

1.V

2.II

4

5,5

7.V

Motor

Speed(r/min-1)

1400

970

960

960

970

Total weight of the hammer (kg)

260

780

870

1300

2500

Basic price  (EXW, EUR, without VAT)

3406,00

4876,00

5523,00

8832,00

9870,00

Steel Base / Frame  (EUR)

-

-

6600

-

Control panel  (EUR)

8160

8160

-

-
<![if !vml]>